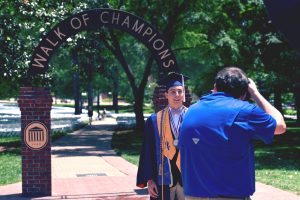 With more than 50 years of combined experience, it is no wonder that our team of skilled photographers are much of the reason that people who have never visited Ole Miss recognize its beauty and charm.
The team is available for hire to compose, photograph and edit pictures of your staff, events and projects such as newsletters and magazines. For convenience, customers have the choice between receiving the images by download off our FTP server or on a CD. Scheduling a photographer is easy! Just fill out the Photography Request Form in the menu to the right.
Order prints of any of our photographs from our online gallery: http://olemiss.photoshelter.com/
Help Us Highlight Ole Miss!
Our photographers are constantly in the field searching for new imagery ideas for the Ole Miss web site, Ole Miss News and our social media channels. They are always looking for events or opportunities that capture what is unique and fun about the Ole Miss student experience.
To initiate your project, please fill out the photography request form.