University Marketing & Communications comprises communicators and storytellers who specialize in creating, amplifying, disseminating and evaluating our university's narrative, brand positioning, and reputation. UM&C is responsible for reputation management, marketing strategy, media relations, executive communications, advertising and printing, graphic and web design, and more.

Marketing & Brand Strategy builds awareness of the university through strategic marketing campaigns and materials and seeks to drive brand alignment throughout the university.
Printing & Creative Services designs and produces a wide range of high-quality print and digital products for a variety of purposes.
Strategic Communications enhances, promotes and protects the reputation of the university among internal and external stakeholders including faculty, staff, students, alumni, friends and media. For media requests, please email umpr@olemiss.edu.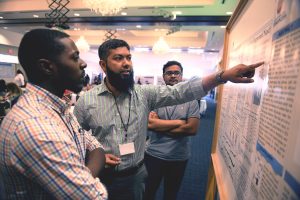 Our staff provides expertise in the following areas:
In addition to identifying marketing and brand opportunities for the university, team also includes resources for video production and content development for the university's web and social media initiatives.
The Communications group serves as the liaison between campus partners and a wide range of broadcast, print and digital media outlets at the local, state and national level. For media requests, please email umpr@olemiss.edu.
The Digital Imaging Services team provides award-winning images to the entire unit and to campus partners on a daily basis. They are the talent behind the Ole Miss home page images as well as the university's Flickr account.
The Printing and Graphic Design team works closely with other members of University Communications to produce high-quality print and digital pieces for a variety of purposes, including marketing, alumni communications, on-campus promotions and national advertising.
Through the development of strategic marketing and communications plans, the UM&C team works with campus partners to produce and gain attention for the many outstanding students, faculty, staff members, research projects, events and initiatives on the main Ole Miss campus as well as our regional campuses in Southaven, Tupelo, Booneville, Jackson and Grenada.
The explosion of social media and other digital platforms has created new ways to get your message directly to your audience. Whether it is a short humorous piece drawing attention to new parking regulations or a more serious video promoting the best of your program for potential students or faculty, our team is skilled at working with you to develop ideas, a storyboard, an affordable budget and a video piece you will want to share with everyone!